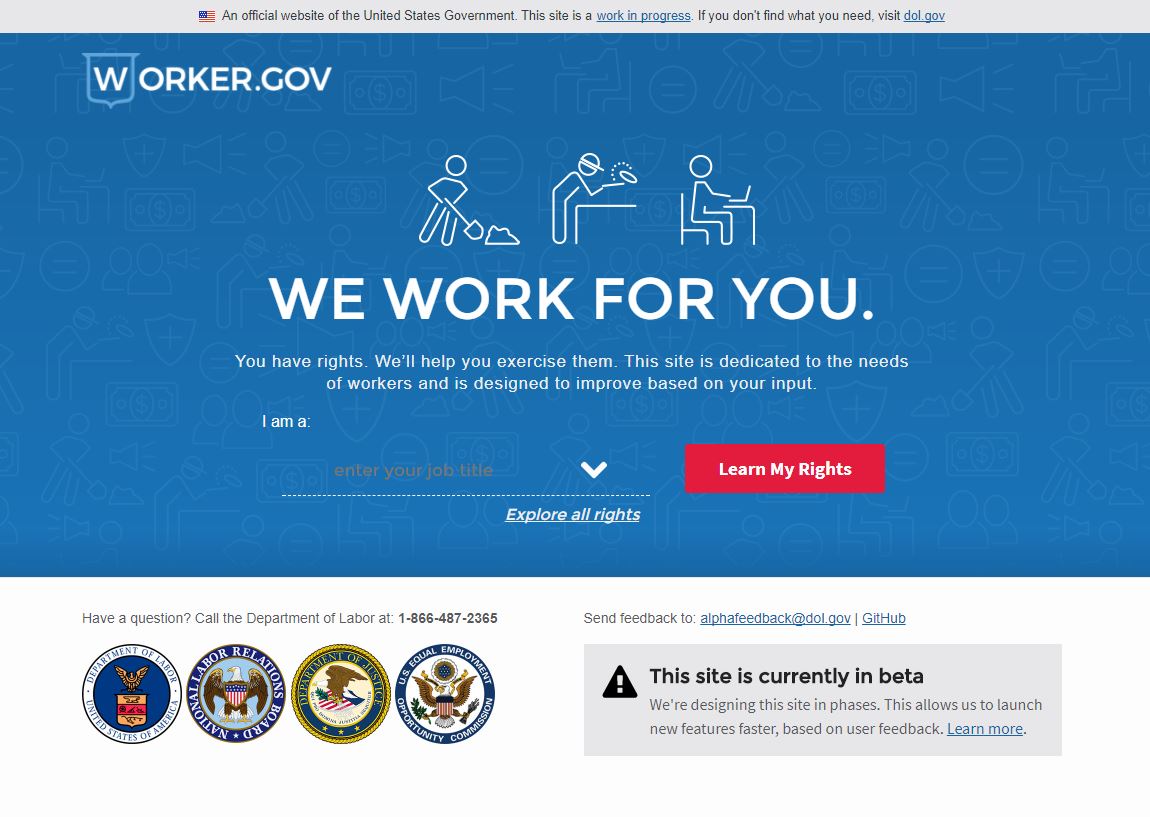 Worker.gov Beta
Summary: What happens when the Department of Labor, the Department of Justice, the National Labor Review Board, and the Equal Employment Opportunity Commission get together and ask your Presidential Innovation Fellows team to build a platform where vulnerable workers can learn about and exercise their rights in two months? You do it!
Process: There were many stakeholders involved in the worker.gov project. The PIF team process followed the typical website creation protocol: we conducted user research with workers, led workshops with our agency partners, and spent a lot of time locked in a room figuring out how this thing could work.
Outcomes: The general idea we developed was to create a guided digital experience that was more like Turbotax than an informational site that required a lot of searching on the user's part. That's what gave us the original "mad libs" design on the wireframe homepage that was later simplified. As they went through the process of learning about their rights, we set clear expectations for what they could expect from the claims filing process.
Additionally, because many vulnerable workers are hesitant to take action due to fear of retribution, we added uplifting stories about workers who had successfully exercised their rights and been served justice, explaining what the process looked like for them.
The beta site features a limited number of worker profiles, focusing on workers who are most frequently exploited in the United States. Since going live, the beta site is being used to capture feedback to make improvements for the next roll-out. We also developed a distribution strategy that leveraged worker centers around the country who could use this platform to help the workers in their communities.
Role: UX Research, UX/UI Design
Some worker.gov love in the Huffington Post: